The Rehabilitation Audit measures the quality of hospital based stroke rehabilitation care in Australia -- helping clinicians, healthcare administrators, and governments to identify improvement opportunities of rehabilitation services throughout Australia.
Forming part of the National Stroke Audit Program, the biennial audit tracks the adherence of evidence-based stroke care from rehabilitation services, to recovery goal setting process, to discharge outcomes.
About the next Rehab Audit
After pausing to undergo a review and recommended improvements in 2022, the National Audit has recommenced this year with the Acute Stroke Services Audit, following the normal biennial cycle. While we had hoped to also do a Rehabilitation Audit (or at least the Organisational Survey) it does not look to be logistically possible. A full Rehabilitation Audit (Organisational Survey and Clinical Audit) will be taking place in 2024 and we will be in touch later this year to begin the process.
Thank you to all for your feedback during the review period and for your understanding and patience.
2020 Rehab audit reports
The last Rehabilitation Services Audit was held in 2020.
Download the 2020 national report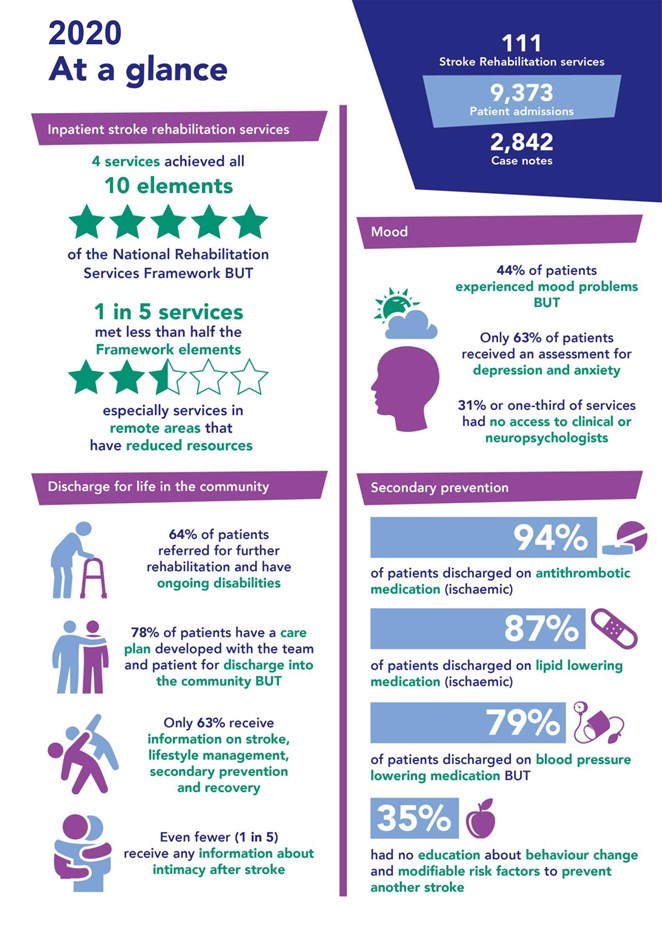 All available reports
Where the data comes from
Rehabilitation audits are part of the National Stroke Audit and comprises:
An Organisational Survey
An Organisational Survey of rehabilitation hospitals across Australia provides information about the resources available to deliver rehabilitation stroke care, such as the availability of interdisciplinary staff and ensuring a client-centred approach to rehabilitation that addresses the whole person.

The Organisational Survey questions assess adherence to the Rehabilitation Stroke Services Framework 2013, which provides national recommendations related to stroke rehabilitation elements of care, including effective links with acute stroke service providers, early assessment for neuro-rehabilitation, written goal setting processes and community reintegration.
A Clinical Audit
The Clinical Audit involving the retrospective review of up to 40 consecutive patients measures adherence to evidence-based process of care outlined in the Clinical Guidelines for Stroke Management 2017.

These processes of care include timely assessments by clinicians, diagnostic procedures, early interventions, interdisciplinary care and discharge planning. Timing of the delivery of various aspects of care and discharge outcomes are also measured.
The Australian Stroke Data Tool (AuSDaT) provides hospital clinicians in acute and rehab settings to collect clinical monitoring in stroke care. Visit the Australian Stroke Coalition website for more information on AuSDaT. The AuSDaT can be directly accessed at tool.ausdat.org.au
Are you an auditor participating in the 2020 rehab audit? Access auditor training materials