The Chronic Stroke Review Tool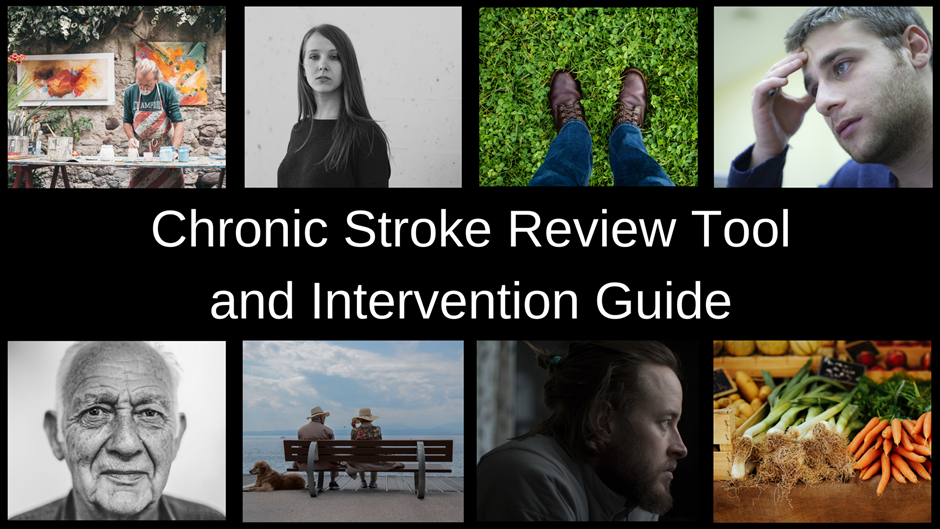 Chronic Stroke Rev-TIG
The Chronic Stroke Review Tool and Intervention Guide (Chronic Stroke Rev-TIG) is a set of training modules and an assessment tool for reviewing the ongoing needs of stroke survivors and their carers following their post-stroke rehabilitation. It is designed for allied health and nursing clinicians who work with people with chronic stroke, usually in the community setting.
The purpose of the Chronic Stroke Rev-TIG is to equip clinicians with the knowledge and skills to conduct comprehensive inter-disciplinary reviews of people with chronic stroke and their carers.
A suite of nine eLearning professional development modules have been designed to enhance quality care of people with chronic stroke.
The Chronic Stroke Rev-TIG includes key information in 8 domains, an assessment tool and a summary of evidence based interventions and referral options for issues or concerns raised in the assessment.
There is a module available for each domain and an additional module which provides an overview of all topics covered.
Acknowledgements
Developed by St Vincent's Hospital Melbourne, Stroke Foundation, with funding support from the Victorian Stroke Clinical Network.
Authors: Kim Brock & Christine Graven, Physiotherapy Department
Collaborators: Carol Silberberg, Mental Health; Lauren Sanders, Neurology; Tamara Tse, Occupational Therapy, Kathryn Mc Kinley, Speech Pathology; Alison Turner & Melissa Birnbaum, Physiotherapy Department, Stroke Foundation Clinical Council
Learning objectives
1: Overview
Identify key issues affecting people in the chronic phase after stroke.
Conduct a basic interdisciplinary assessment of a person with chronic stroke.
Investigate interventions that may be effective for issues identified and assist the person in their long term recovery.


Understand the concept of participation, including both objective and qualitative components, focusing on the person as an individual in their context.
Explore aspects of participation with an individual to determine valued activities.
Support an individual to plan stepwise progressions towards activities that are intrinsically significant to the person.


3: Functional decline/fatigue/continence/falls
Recognise the potential for both improvement and decline in function late after stroke.
Understand the nature of fatigue after stroke and how this can affect the person's recovery.
Identify contributing factors to continence issues after stroke and the potential benefits of expert assessment and management.
Initiate a falls assessment and organise appropriate interventions,


Recognise the importance of communication abilities for participation and quality of life.
Appreciate the potential benefits of communication interventions in the chronic phase after stroke.
Recognise the effect cognitive impairments have on life after stroke.
Investigate multifactorial approaches to cognitive interventions.


5: Mood
Understand the prevalence of depression and the effect depression has on stroke outcomes.
Be comfortable discussing low mood with stroke survivors, including suicidal ideation.
Identify interventions that are effective for depression, including interventions that can be delivered by rehabilitation clinicians as part of their intervention program.


6: Adjustment to life after stroke
Recognise the emotional and social consequences of stroke and the journey to re-establish an intrinsic sense of self.
Develop increased confidence in discussing issues of sexuality and intimacy with stroke survivors.
Consider a broad range of approaches to assist people with stroke through the recovery and adjustment process.


7: Secondary stroke prevention and complications after stroke
Identify key health and lifestyle factors that reduce the risk of recurrent stroke.
Assess the person's compliance with secondary stroke prevention strategies.
Consider a broad range of approaches to improve secondary stroke prevention.
Recognise common complications post stroke that occur in the chronic phase.
Initiate interventions or appropriate referrals to effectively manage post stroke complications, including post stroke pain.


8: Carers
Recognise issues affecting carers such as role change, reduced participation and social isolation.
Explore both the day to day aspects of the carer's role and the less tangible effects on their personal situation.
Identify strategies that carers of stroke survivors report to be useful.
Initiate interventions and referral options for carers.


9: Goal setting
Understand the theoretical basis of goal setting and the potential contribution of goal setting to recovery.
Utilise strategies to assist stroke survivors and their families to actively pursue their own personal goals.