Living Clinical Guidelines for Stroke Management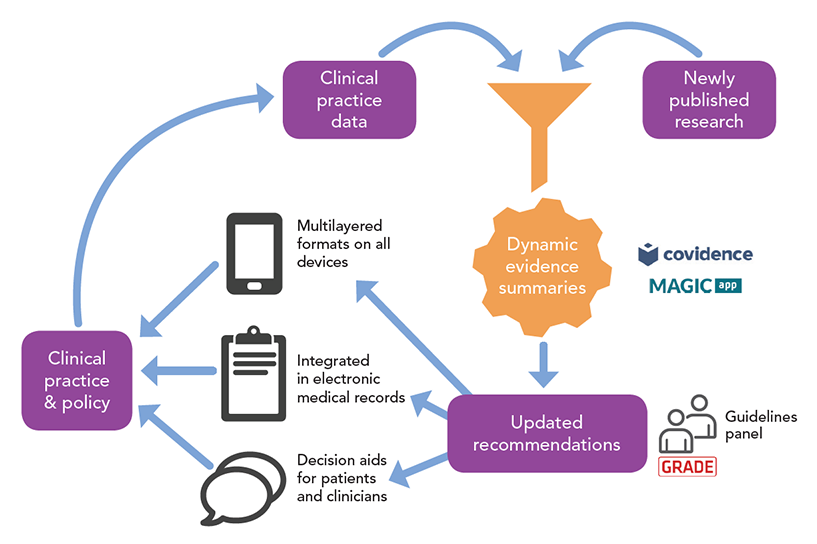 The Australian and New Zealand Clinical Guidelines for Stroke Management are living guidelines, updated as new evidence emerges. They supersede the 2017 Clinical Guidelines.
How to use the guidelines
MAGICapp.org is the platform that hosts the guidelines. When you click a link you may be asked to accept terms and conditions, or to load the latest version. Please agree and continue to the guidelines.
Save a PDF of the guidelines as they are today by clicking on the PDF link in the top right corner of MAGICapp.
Version history of each recommendation can be seen by clicking the exclamation icon to its right, or you can see a description of changes in the version history of each chapter under the About link in the top right corner of MAGICapp.
See a list of all updates, plus drafts for consultation.
 
If you have any questions, please contact guidelines@strokefoundation.org.au
Contents
The Clinical Guidelines cover the whole continuum of stroke care, across 8 chapters.
Suggest a new topic or question
Have we missed anything important? To keep the living guidelines relevant, our project steering committee annually reviews the topics the guidelines cover and the questions about practice that they answer.
We welcome suggestions for new topics to consider during our annual review.
Please email your suggestions to guidelines@strokefoundation.org.au
Short summaries
Consumer resources
Discipline-specific summaries
Development process
Details of how we develop the guidelines, along with administrative and technical reports and other documents required for NHMRC approval, can be found under Guidelines development process.
This includes a current list of working group members and other people involved in developing the guidelines.
Implementation tools
In this video, Co-chair of the Guidelines Content Working Group, Assoc. Prof. Coralie English, explains the guidelines for stroke rehabilitation:
Suggested citation
Stroke Foundation. Clinical Guidelines for Stroke Management. Available at https://informme.org.au/guidelines/living-clinical-guidelines-for-stroke-management. Accessed [insert date, month and year, and if applicable specific sections or chapters].
© No part of this publication can be reproduced by any process without permission from the Stroke Foundation. 2023.