QI prize awarded for transdisciplinary stroke assessments
We have a winner!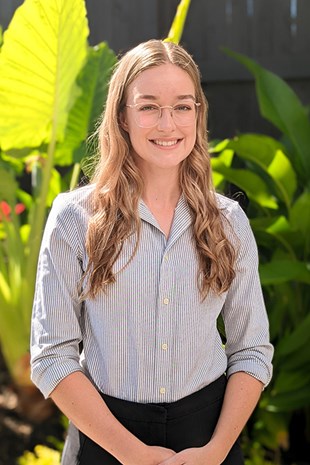 Stroke Foundation is excited to announce the winner of our inaugural Stroke Foundation Quality Improvement Prize is Aleysha Martin from Mater Hospital Brisbane!
Aleysha took out the top spot with her innovative submission, "Transdisciplinary stroke assessment: improving allied health efficiency and care on the Mater Hospital Brisbane acute stroke unit."
Congratulations to Aleysha, who will receive registration to the Stroke 2023 conference, with mentoring on abstract preparation and submission.
The QI prize is for a project that has used data to improve local care, adherence to guidelines and frameworks, or patient outcomes.
Aleysha Martin, an occupational therapist and PhD student, said she was grateful to have the work of the acute stroke unit at the Mater Hospital Brisbane recognised.
"It is especially humbling to know that our work has been chosen for the inaugural prize," said Aleysha.
Aleysha's team implemented a transdisciplinary stroke assessment that integrated occupational therapy, physiotherapy, speech pathology and social work. They aimed to streamline and share clinician skills and knowledge, to reduce duplication, speed up the start of rehabilitation, and increase the efficiency and sustainability of allied health assessments in the face of rising stroke numbers and growing demand.
Over 22 months of implementation they timed stroke assessments, and for 177 participants collected data on length of stay, time from admission to assessment and rehabilitation, adverse events, and 3-month outcomes using the EQ-5D.
Results showed that transdisciplinary stroke assessment led to faster access to assessment and rehabilitation, with 99% of participants mobilised within 48 hours of admission, and 21% more patients screened for communication deficits, in line with clinical guidelines.
Adverse events such as falls didn't increase, and patients reported improved quality of life scores on the EQ-5D at 3-months after admission.
The transdisciplinary assessment and associated improvements have been sustained over the last 18-months.
"I am very proud of what we have been able to achieve, as we know that our efforts are improving the stroke care we provide to our patients," Aleysha said. "I am also very grateful for my team, who have embraced transdisciplinary practice and fully supported the initiative."
Highly commended
The QI prize adjudication panel also highly commended three other entrants, whose submissions reflect clinical excellence through use of guidelines and data to improve patient care and outcomes:
Courtney Elliot (project partner Megan Thompson), Monash Medical Centre
"Arms Matter: Is it feasible to implement an upper limb (UL) group on an acute neuroscience ward at Monash Medical Centre (MMC)."
Jessica Kearney, Royal Melbourne Hospital
"Is group-based upper limb therapy for stroke patients feasible in an acute setting?"
Langduo Chen, Flinders Medical Centre
"Intimacy matters – improving information sharing on post-stroke intimacy/sexuality."


Overall, the members of the adjudication panel were very impressed with the quality of entrants to this inaugural competition:
"The projects entered are an impressive demonstration of clinical innovation, excellence, and commitment to improving patient experience and outcomes by health professionals across the country. We thank and applaud all entrants and look forward to receiving submissions next year."
With the QI prize to be offered again next year, inaugural winner Aleysha Martin also encouraged others to use stroke data to aid quality improvement.
"We purposefully aligned our project and data collection with the stroke guidelines and data collected by AuSCR," Aleysha said. "This was a good idea to make sure our results were not only meaningful, but impactful and easily communicated with others. The Australian Stroke Data Tool (AuSDAT) and the Stroke Foundation's living stroke guidelines are great resources to tap into for your quality improvement projects."
Aleysha will be submitting an abstract describing her work to the Stroke 2023 conference, to be held in Melbourne this August.
Adjudication panel members were Professor Dominique Cadhilac, Elizabeth Lynch, Julie Morrison, Kelvin Hill, Melita Stirling and Simeon Dale.